Whether you prefer to worship in a traditional setting, or have a penchant for the contemporary style, you will feel right at home at First Presbyterian! Try either or both and let us know what you think!
First Presbyterian Church Norfolk
820 Colonial Avenue
Norfolk, VA 23507
t. 7576251697
From late breaking to notable, 'first news' will keep you in the loop with all the goings on at First Presbyterian and links you directly to our Facebook page! Visit us often and let us hear from you as well!

Preschool is looking for subsitutes for the upcoming school year. If interested call the office at
(757)625-0667
or email pam@fpcnorfolk.org.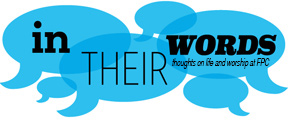 "Whenever I have the opportunity, I try to get back to Presbyterian churches, because that's where I feel most at home and because I think that the training required of Presbyterian ministers generally helps to make them stronger in the pulpit … with the role of teaching, encouraging, reminding, energizing, challenging, and even cajoling the listeners as they seek God's presence and wisdom. You're succeeding in that role. Thank you for your service to your congregation (and to visitors like me)."