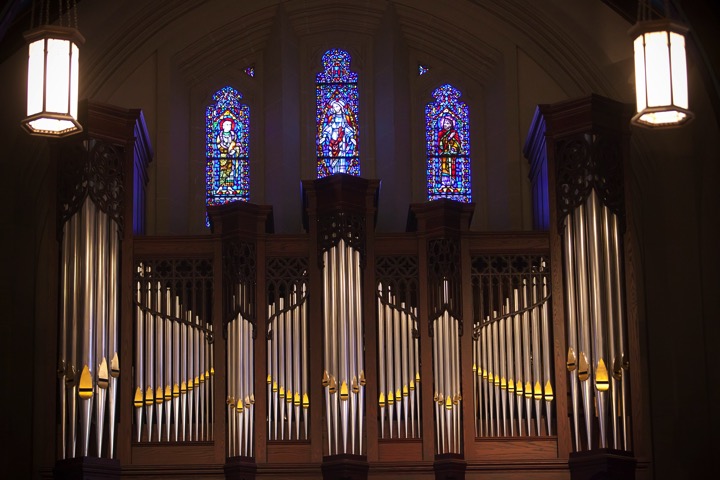 For centuries, the organ has played a vital role in the celebration of worship. It stimulates us to praise and prayer; it leads the congregational song; it accompanies musical offerings in the service and makes its own offering of music. So it is that our organ remains an integral part of the ministry of First Presbyterian Church.
Gifted to the church by Dick and Shirley Roberts, the J. W. Walker pipe organ was designed specifically for First Presbyterian Church to enhance sacred music in the sanctuary and to be a blessing to the congregation for generations to come. An organ committee chaired by Terry Huffman and including members Carl Gatje, Bill Kent, Shirley Roberts, and Steve Wright selected J. W. Walker & Sons Ltd. of Brandon, Suffolk, England to build the new organ when maintenance, repairs, and upgrades on the organ original to the sanctuary (1911) became too costly. The organ was completely constructed in their workshop; disassembled and shipped across the Atlantic to Norfolk, VA, and reassembled at our church in the late fall of 1992.
J. W. Walker and Sons has a rich tradition of organ building expertise and is known for both its commitment to traditional craftsmanship and progressive outlook in organ design. The Main case, front console, with the addition of the 1994 West Organ became a four-manual console, with the ability to play all pipes from one location. The organ has seventy ranks of pipes and fifty stops. The Main and West Gallery consoles have a 61-key manual compass, and 32-key spans in the pedal, with a Peterson ICS 4000 control system available at the Main console. This facility makes it possible to play music from the entire range of organ literature from both concert and liturgical styles.